Symflower's tech2b graduation
Symflower at its tech2b graduation. Startups who have successfully completed their incubation with tech2b are honored in a graduation ceremony. We were honored with the "winner diploma" by tech2b in front of representatives of economy and press.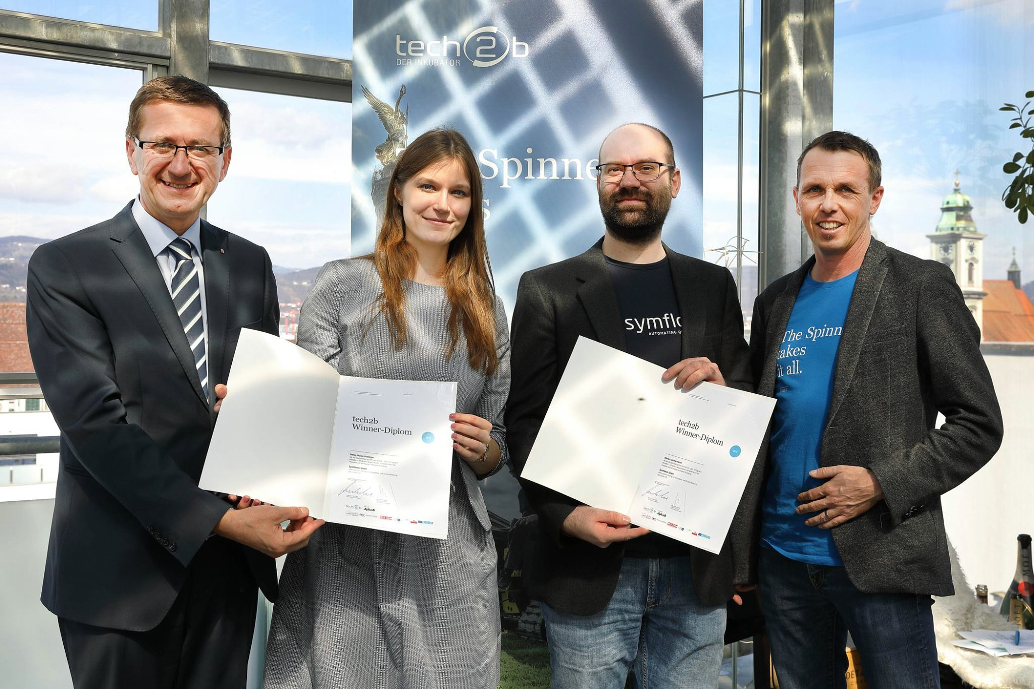 The incubator tech2b supports entrepreneurs with their first steps right through to their marketability of their products and services. As a small organization, you can take avail of a wide variety of services and assistance during the course of the scale-up phase. Office space is provided as well as various trainings in the fields of marketing, finance and law. All of these possibilities were gladly used by our team. This has resulted in a number of strategic measures that already benefit us.
The cooperation and exchange with other incubated startups was extremely valuable. Especially as a young entrepreneur it is necessary to allow constructive criticism from the outside and to face it openly.
Around 300 different startups apply yearly to the desired program of the Upper Austrian incubator. Only 16 of them made it through the 18-month incubation, left the market entry barriers behind them and successfully earned their first revenues. From now on also Symflower is one of the lucky graduates of the program.
We would hereby like to thank the whole team again. It was a very exciting time for us at tech2b, from which we take a lot for our business, as well as private, future. We would like to extend our special thanks to our two mentors Wolfgang Bräu and Josef Pichler, who have actively supported us over the last two years.